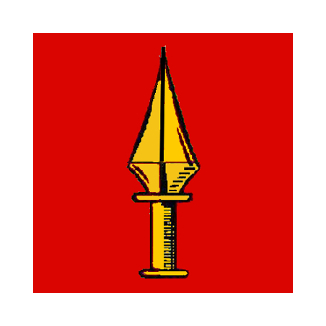 War College
May 6 - Shire of Amlesmore, Kingdom of Calontir
Bring your Scutums!! Bring every new fighter you can! This is a day to learn how the army operates before going to a foreign war!
War College is returning to its old format offering classes in many of the aspects of war. However, we do not only want to teach you how to fight a war, but also how to gear up for war! So we are also offering classes in such things as how to make a gambeson for the non-fighter.
Location: Tribble Park, Hallsville, MO 65255
Site fee: Free! Donations accepted.
Inn: Free! Donations accepted.
Site opens at 8:00 a.m. & closes at 8 p.m.
Merchants: No merchant's fee will be asked.
Back at the Old Site!
War College is returning to Tribble Park!
Event Steward: Her Excellency Countess Katrine Thorroffsdottir
Phone: (573) 881-1529
Fighter Class Schedule
Note Authorizations start at 9 am sharp!
9:00-10:30 Armored combat authorizations
10:45-11:30 102 - Basic Spear Commands
11:30-12:15 103 - Spears/Sword & Shield Communication "Teamwork"
We will have spear hook kits. If you do not have a spear hook, you need one. We will discuss how to use them properly during the "Teamwork" practice.
12:15-1:15- CA shafted archery authorizations and equipment discussion/Break for lunch Scutums/Grounded Shield Wall
1:30- 2:15 104 - Charges - Properly Leading a Charge & Accepting a Charge
2:15-3:00 201 - Charges - Types, Commands, & How/When to Execute
3:00- 3:45 202 - Pole Arms and Great Swords - Their role in the army and how to execute with perfection.

Please direct questions about fighter classes to the Calontir War Council website http://warcouncil.calontir.org/Home/
Cut and Thrust Activities
Description: C&T activities will consist of melee training in preparation for Pennsic and other future wars.
10:00-Noon: Individual and paired melee skills.
Noon: Lunch Break
2:00 - 4:00 Large Unit Skills.
4:00 Organizational meeting for discussing how to build the C&T army.
Non-Fighter Class Schedule
10 am: Mistress Elynor of Glastonbury - Cloth Buttons
10 am Lady Elzebeth von Rostock - How to make a gambeson
11 am: Duchess Magdalena vander Meere - Felting
Noon: lunch break
11 am: HL Jaida de Leon - Water Bearer Round Table
1 pm: HL Cecily Darvell - Working with Fur
1 pm Lord Hubert de Stockleye - Heraldry in War
2 pm Mistress Catrijn vanden Westhende - Linen caps and headgear
3 pm HL Annora Reyner - Tudor Clothing 1510-1530

Meetings Schedule
Noon: Iren Fyrd
12:30 pm: Iren Hirth
1 pm: Stile Fyrd
1:30 pm Stile Hirth

Directions:
From the South: Find your best route to Columbia, MO. From I-70- Take exit 128A toward US-63/Jefferson City/Moberly. Use the left 2 lanes to turn left onto I-70 Connector N (signs for US-63 N/Missouri PP/Moberly). Merge onto US Hwy 63 N. Take the Missouri B exit toward Hallsville/Centralia Continue to the traffic light in Hallsville. Turn right at the light and continue approx. 1 block to Tribble Park. It will be on the right
From the North: Find your best route to Highway 63 going towards Columbia. Turn left on Highway 124.Travel about 6 miles. Continue through the traffic light and go approx. one.block. Tribble Park is on the right.
Please note this is the recognized website for the Shire of Amlesmore of the Society for Creative Anachronism, Inc. and is maintained by Lord Hubert de Stockleye (Berry Canote). This site may contain electronic versions of the group's governing documents. Any discrepancies between the electronic version of any information on this site and the printed version that is available from the originating office will be decided in favor of the printed version.